A Practical Guide to a Safe Restart
A disciplined return to work will be key to economic recovery in the wake of the pandemic.
The COVID-19 health crisis is posing unprecedented challenges to people and economies around the world. To limit the economic downturn and impact on people's ability to earn a living, the recruitment market and all its stakeholders must quickly adjust to this new reality – a new normal where physical distancing and other strict measures will be integral to all workplace processes for a considerable time to come. As part of the ManpowerGroup we believe urgent action is needed to be fully prepared to get people safely back to work when the moment is right, where timing this accurately is crucial for the economy. So here's a guide we've put together to help you.
This research is for organisations of all types and sizes to identify and apply the practices that will get them up and running in a safe, healthy and productive way.​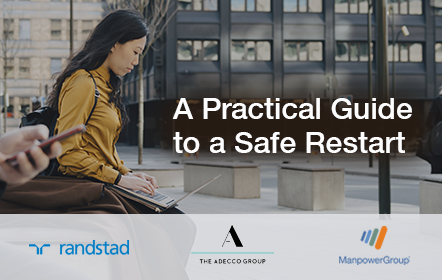 ​
An Industry Collaboration
ManpowerGroup are proud to have a formed a global alliance with Randstad and the Adecco Group to help drive a collaborated approach to help people get safely back to work. In Australia this alliance is facilitated with governing body for the recruitment and staffing industry, RCSA, to collate, quantify and share proven best practices so that Australian and New Zealand businesses can operate and our economy can restart. Click here to read more on collaboration.
Back to insights